Escorting In Spring With Green – Jasper, That Is.
YAY – It's spring! Here in Northern Nevada, it even is acting like spring.
What comes to mind when you think of spring but green? With that in my head the other day, I decided to wander off just down the road and hunt a green jasper area I hadn't browsed for years in the Fernley area.
Winter seems to have washed out the roads and trails in a few spots just a bit more than my rig wanted to handle easily, but it was sunny and warm so I just got out and hiked the hills.  Despite the fact that the outcrops that I had expected to chip some nice chunks of this jasper out of were no longer there, I was able to pick up some nice chunks that winter deposited in a few of the creek beds and washes. I had to work for them, though. It took a lot of climbing around to get a respectable load of them.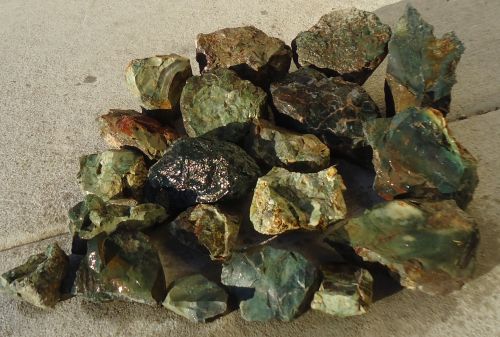 As you can see, this area offers several shades of greens and patterns. The rock is pretty tenacious and takes well to cutting. Some pieces have brown or red colored patterns in them, and others small seams of drusy.
That was my spring solstice celebration this year. Next hunt will take me back to the wonderstone area for some lively pinks and yellows.
Happy spring, everyone!

Life's short –  Rock hard