Rockhounding Graveyard Point and Owyhee Agate
This is just a small tutorial for those of you needing a little help getting started and are visiting or live in these areas.
The ID/OR borders are rich with many forms of agate.  There's also jasper, opal, petrified wood, queenstone and crystals, and today I'm just giving a picture tour about finding a few of these things  in these desert areas.
The first thing you need to know is the difference between quartzite, agate, and jasper.  Quartzite is often just called quartz. You can tell quartz because it has granuals. It looks like someone took sugar and pressed it together real tightly.  Agate often looks like quartz a bit, but you won't see granuals. It looks like wax. It is also translucent, and sometimes even clear.  Opal is much the same as agate but looks a little glassier than agate. It also breaks easier than agate.
You can get agates off the ground or find stone outcrops with agate in them in these areas.  What you are looking for is going to be very different from what you get when you cut the agate into slabs.  The outside is usually rather plain, other than you will be able to see little telltale spots of inclusions sometimes.  Occasionally you will find one that actually looks the same on the outside as it does on the inside, but not usually.   The picture below shows what you find in the field: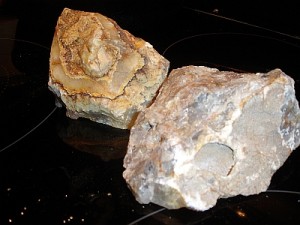 Now up close you will see more of the waxy look – and in a few spots you can see through the surface far enough to see there are inclusions. But all in all, these are not "wow" rocks when you see them other than if you pick up one that is a good size. And – once you know the potential for what's inside of that agate it won't take too long to accustom your eyes to them in the field.  And – here's where the fun comes in. Both of these  "oh hum" rocks were sliced – and here's the result: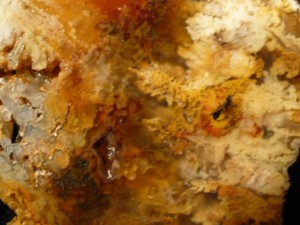 Here's the other rock cut in half. If it were slabbed, it would have some gorgeous potential for a cab along the plume.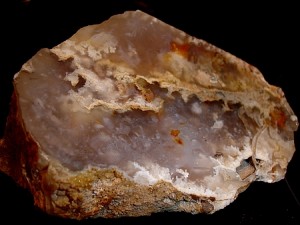 The picture doesn't do this one justice but you can see a plume across the top and some plummy areas at the bottom – how big does a nice area have to be to make a splendid cabochon?  The picture also makes it look like the middle is indented  – it's not. It's cut flat across.  The agate in the center is quite clear and you can see fairly deep into this stone.
There are agates, of course, that are worth more than others.  At Graveyard Point you can find agates with a plume that is almost mossy instead of plummy, even though it's still referred to as plume.  If you find a nice one of these that has a pink or purplish color – you have a valuable stone.   I can't be sure if the color of this specimen from Graveyard Point will show up in your browser, but these are the colors that you can get – and want from graveyard point.
The pink is rare out there.  Most of the agate is the white, browns, and yellows of the Owyhee agates.  That's why pink pieces are prizes.
Sometimes you can find tube agate at Graveyard Point. These agates are great for either cabinet specimens or cabs.  The one in the picture below is tube agate that is not embedded in other agate,  when the tubes are embedded in a clear agate they can make awesome cabochons.  This one is a cabinet specimen.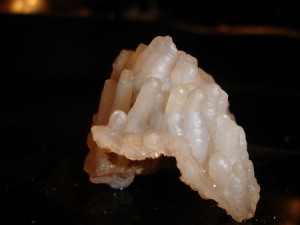 As you can see in the picture, when you find a piece of tube agate like this, you aren't going to need much help in identifying it. I don't think I've seen anything that looks anything like tube agate.
There are spots that you can find fossil leaves in the Owyhees, too. They are fragile as the matrix rocks break easily.  The rock is light brown to yellow, and looks like regular mudstone. It breaks into 1/2 to 1″ thicknesses.  If you see an outcrop of this stone, you will usually find a pile of broken chunks under the outcrop.  Finding the fossils is as easy as sorting through the broken pieces. They are usually rectangular in shape.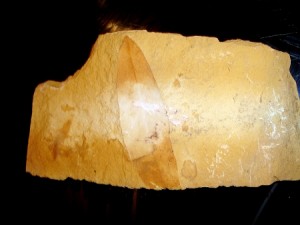 Another thing you will find in the Graveyard Point and Owyhee reservoir area is petrified wood. Some of the wood is agatized as in the pictures below and some looks almost like wood instead of stone.  The piece below is about  7″   X 10″.  It's holding my rockhound books upright on my bookshelf.  The views are from the end of the piece and from the outer edge of the half round.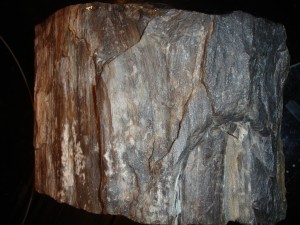 Even though this piece is completely agatized, you can still tell that it was once wood when you see it.  Many of the petrified wood specimens of that area do not leave any doubt they are…or were wood.  You will usually be pretty sure of what you have even if it's your first time out hunting when you find petrified wood.
Here is the end view of this piece.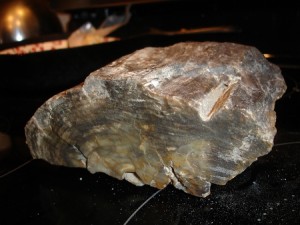 The rings don't show up as well in the photo as they do when you are looking at the actual rock, but you get the idea.
The agatized wood in one specimen I got is black and not as quality – but the bark is spectacularly petrified.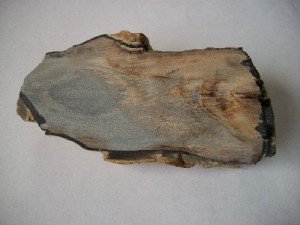 Finds like this one make hunting in the Owyhees a lot of fun.
There's two other rare finds in the Owyhees that you might just run across when you are out there sometime.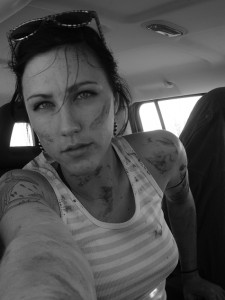 OH yeah – if you find US out there you just gotta know – we're gonna be dirty!
And we're gonna be grinning ear to ear — even Rickie!
I sure hope that this has helped some of you who are getting ready to go wander around the Owyhee desert areas.  Don't forget to check out the RHS1 photo gallery for more pictures of what our members are finding and where they are finding it!  Thanks for reading.
Please remember – our open areas are under constant threat of closure. Please help keep these areas clean and healthy. Fill in all of your holes when you dig and if you pack it in – pack it out.  Help keep these wonderful playgrounds open for everyone to enjoy.
[sc name="cgssm"]