Rock Hunting North of Winnemucca
My adventure last week up in the more northerly areas of Central Nevada was a pretty hot trip at this time of year.  Luckily there was a reservoir to cool off at and also a mountain road that was wooded and had a few springs and creeks to explore when the midday sun was blazing — not to mention a great hot springs to soak in as the sun set.
The rocks were really not located at "sites".  They were just scattered around the landscapes so I did a lot of driving and stopping here and there and wandering around.  Most of the rock were almost stereotypical for what I've seen in the state so far.
There was a lot of light green potch (common opal) that mostly was the type that shatters into a million pieces if struck. Yet now and again there was some that was mixed with agate and held up a little better.  In the rock below there's a mix of green agate and green opal and some inclusions that may make some nice cabs or slabs.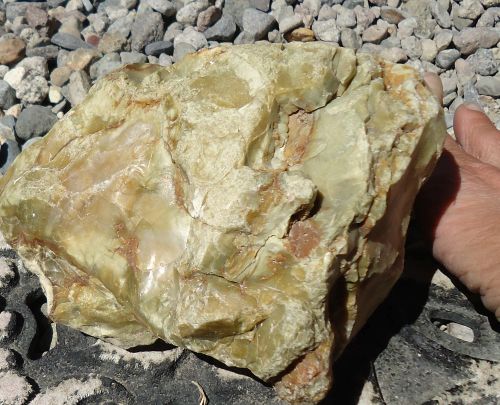 The agate is mostly multi-colored, with a host of earthtones.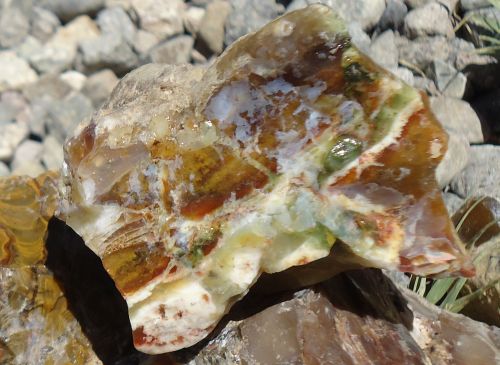 Petrified wood also is scattered throughout the region, however, I was not able to find a source. The wood is pretty well agatized and on most of it there is enough banding that it will make good cutting and cabbing material.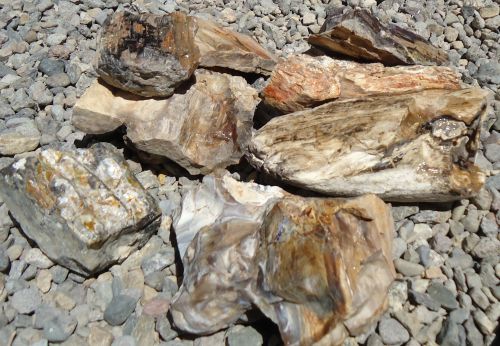 This piece of jasparized wood is absolutely lovely in person and has this type of banding on every side, making it hard to decide which way would be best to cut it.  Maybe I'll just polish off some of the white agate coating and leave it in one piece.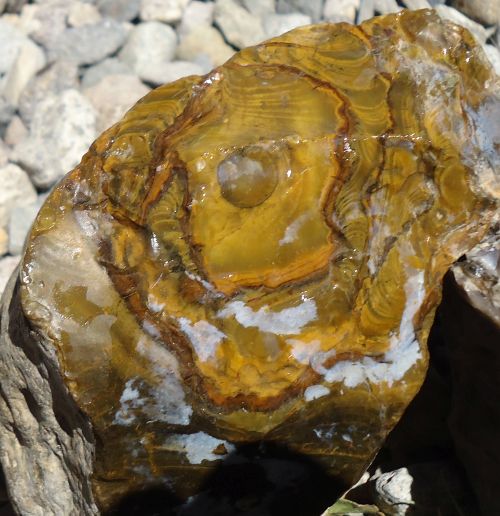 There were also a few spots with fossils on the trip, but these were from South of Winnemucca at a little side jaunt I took on the way home.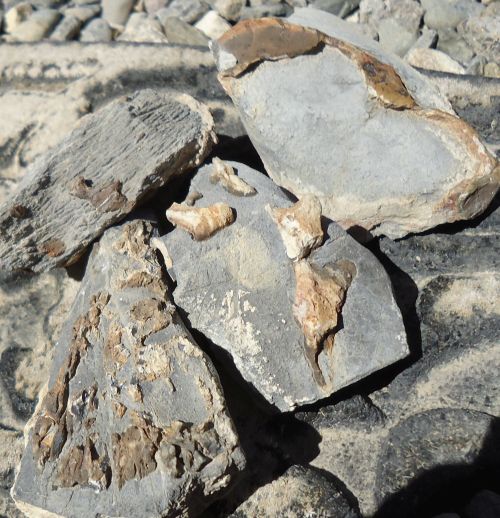 And, of course, here's an obligatory picture of some red and yellow jasper, because, God knows, you can't go very far in Nevada without picking up a hunk or two of red and yellow jasper.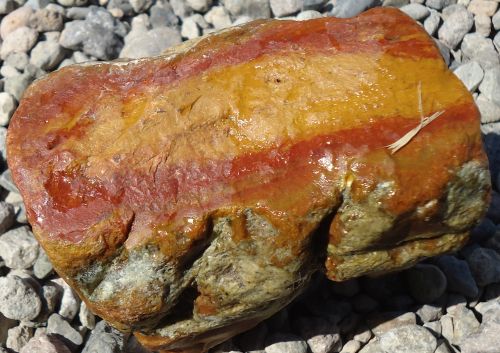 So there's the sample of what can be found in the north central regions of the state.  Now it's time to decide which area to explore next.
Until next time;
Life's short –  Rock hard